Share this infographic on your site!
A Guide to Donald Trump's Business Career
Donald Trump's business career has been a veritable rollercoaster ride of his own making – as with most Trump-ian pursuits.
Let's take a look at Trump's biggest successes and failures in business.
Successful Business Ventures
Grand Hyatt Hotel
(1974-)
Turned deteriorating Commodore Hotel into lavish Manhattan cornerstone.
Wollman Rink
(1986-)
Renovated for Mayor Koch $350k under budget.
Trump Place
(1974-)
Initially intended to become "Television City." Following years of negotiation, residential complex opened on Upper West Side.
Trump Tower
(1980-)
Iconic skyscraper stands on 5th Ave., just below Central Park. Labor lawsuit concerning controversial construction settled in 1999.
40 Wall Street
(1995-)
Bought for $1MM, renovated for $35MM, worth $500MM.
Trump International Tower Chicago
(2005-)
2nd tallest hotel in Chicago was named best large city hotel in North America in 2010.
Trump Model Management
(1999-)
One of Manhattan elite boutique model agencies. Currently the defendant in multiple lawsuits.
The Apprentice
(2004-)
Successful show spawned "Celebrity Apprentice" spinoff. NBC cut ties with Trump in 2015, but show expected to continue.
Failed Business Ventures
Trump Vodka
5 years (2006-2011)
"Trump and Tonic" never became America's most popular cocktail, as Trump forecast.
Trump: The Game
2 years (1989-1990); (2005)
Monopoly-styled board game discontinued, revived as tie-in to "The Apprentice," and discontinued again.
Trump Airlines
4 years (1988-1992)
Bought for $365 million as Eastern Air Shuttle, Trump planned to turn blue-collar airline into luxury fleet. It never turned a profit.
Trump Entertainment Resorts
20 years (1995-2015)
Casino entity has filed for bankruptcy 4 times. Trump resigned from board in 2009 but maintains 28% stock share.
GoTrump.com
1 year (2006-2007)
Search engine for luxury travel deals included private jets and 120% price guarantee.
Trump Magazine
1.5 years (2007-2008)
High-end lifestyle magazine saw initial success "cashing in on the booming advertising market for yachts."
Trump Steaks
5 years (2007-c.2012?)
Unknown when company bowed, but possibly in 2012 after Vegas chain shut down following 51 health code violations.
Trump University
6 years (2005-2011)
Un-accredited, for-profit school has been sued twice, most recently for $40 million by NY Attorney General.
Trump Ice
15 years (c.1995-2010)
First served at his casinos, Trump claimed "it was so good that people wanted to buy cases of it!"
Trump Mortgage
1.5 years (2006-2007)
Predicted by his son to be #1 US home-loan lender. Shuttered amidst housing crash and discovery that top executive had worked on Wall Street for just 6 days.
New Jersey Generals
2 years (1983-1985)
Bought USFL team, sold away, and reacquired. Team and league ended following year.
That's a 42% success rate.
Which is an excellent baseball batting average.
His failures have an average lifespan of 4.6 years, excluding outliers.
With a median of 4 years.
So how much is Trump really worth?
Trump: over $10B
Forbes: $4B
Bloomberg: $2.9B
North Fork Bank (2005): $1.2B
Wall Street Journal: over $1.5B
Deutsche Bank: $788MM
New York Times (2005): $150-$250MM
It's a bit muddied.
Holdings:
500 entities in which he is a trustee, president, chairman or member
391 of which bear the Trump name, which he values at $3,320,020,000
Stock portfolio:
$33.4-87.9MM
But this year alone he's lost more than a dozen multi-million dollar deals.
NBCUniversal
Univision
Serta
Televisa
Farouk Systems
Macy's
NASCAR
ESPN
PGA
PVH Corp.
Jose Andreas
Geoffrey Zakarian
Perfumania
Federal Aviation Administration
5 Rabbit Cerveceria
Studio Ora TV
City of New York
Teletica
It's also not entirely clear Trump's fortune was made by him at all.
1974: Inherited $40MM
$40MM reinvested dividends 1974-2015 S&P 500 Index:
$3B
$200MM (1982 net worth) reinvested dividends 1982-2014 S&P 500 Index:
$8B
Depending on how much you think he's currently worth, Trump might've made more money by just riding out the S&P Index.
It's possible he's even lost a few billion. Though, to be clear, we're not saying that for certain. (We're loathe to lawsuits, and Trump's had a few.)
Either way, it's a moot point, because one thing is for certain:
Trump still has more money than you.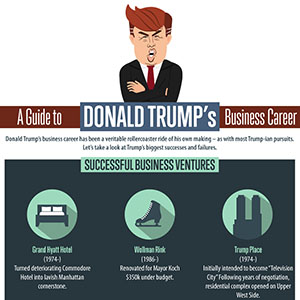 Citations: