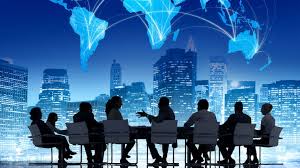 Prospective graduate students may want to earn an MBA in International Business to gain an upper hand in today's global market. If that's you, you're in luck because many business schools now offer this specialization for Master of Business Administration programs. An MBA in International Business is a two to three year graduate degree that provides business leadership training from a global perspective. The International MBA is becoming quite popular due to rapid economic growth in certain foreign nations. International business graduates are being hired abroad in droves for their multicultural and multilingual skills. Earning an MBA in International Business is an excellent option for beating out competition and building a career across borders.
Typical MBA in International Business Curriculum
MBA in International Business programs are available on-campus or online to lay the traditional business foundation with a global twist. The curriculum usually begins with a general MBA core covering diverse business disciplines, such as finance, marketing, logistics, and management. Then, the cohort progresses into specialized electives rooted in international business. Here MBA students study topics like corporate finance, global entrepreneurship, international relations, macroeconomics, international trade, and conflict negotiations. The MBA in International Business program may require taking a foreign language like Spanish or Chinese for better cultural awareness. Coursework is threaded together to give students the worldview to make wise global leadership decisions for multinational companies.
Classroom instruction is only one slice of the MBA in International Business degree. The 36 to 60 credit program will incorporate short or long-term learning experiences abroad. Top-tier business schools are affiliated with universities overseas for exchange programs. MBA students will immerse themselves in different cultures while attending foreign seminars. The destinations vary greatly for MBA in International Business programs, anywhere from Russia to Spain and Brazil. Some curricula will include corporate internships abroad for resume-building business experience. Like other MBA concentrations, International Business programs normally substitute a capstone consulting project for a master's thesis. This will expand your portfolio while creating real-world solutions to international problems.
Career Opportunities with an MBA in International Business
Obtaining an MBA in International Business means your job search won't be confined to America's 50 states. Graduates can expand their employment prospects into emerging markets like Malaysia, Morocco, and Egypt. The world's economy showed GDP growth by 3.4 percent to $77.6 trillion in 2014. That means international business majors have plentiful career options based on their interests. One of the most popular jobs for MBA in International Business grads is management consultant. This upper-level title involves presenting recommendations to multinational corporations on ways to boost efficiency. Management consultants earn a lucrative mean yearly salary of $91,770 by keeping their clients competitive.
Job opportunities don't stop there. If you're interested in balancing dollar signs, you could become an international accountant, financial analyst, or tax manager. Those gifted with foreign tongues could become interpreters or translators for global companies. MBA in International Business graduates who enjoy logistics could become international traders, buyers, supply chain managers, or operations managers. Attending law school after graduation could equip you for international attorney positions. Other hot international business jobs include PR manager, technology director, banker, economist, import/export specialist, and sales manager. Highly motivated professionals could even use their MBA in International Business to climb the corporate ladder to Chief Executive Officer (CEO).
Finding a Quality MBA in International Business Program
Earning an MBA in International Business is a costly investment, especially at high-profile schools like Stanford or Northeastern. Therefore, choosing the right MBA is a monumental decision to weigh carefully. One of the most important factors to look for is accreditation. Colleges offering the best business education are generally accredited by the prestigious AACSB International. These programs are the most competitive, so you may also need to consider degrees at ACBSP or IACBE accredited schools. The U.S. News and World Report survey publishes a ranking of the best MBA in International Business programs. Consult with this list to learn about who's the cream of the crop.
Don't only settle for what rankings tell you though. Conduct your own research into each prospective MBA in International Business program. Peruse through the curriculum to see if your desired interests and core disciplines are covered. Inquire about the university's professors to ensure you'll be learning from esteemed, experienced practitioners. Cohorts with smaller class sizes are often preferred for greater peer interaction. Call the school's study abroad office to ask about available learning opportunities in your targeted countries. If you're earning your MBA online, double check that the virtual classroom is high-tech with user-friendly, interactive interfaces. Doing your homework beforehand can help you select the right MBA in International Business for making your career soar.