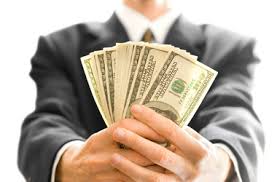 Money is often one of the motivating factors for pursuing international business programs. In-depth knowledge of the social, cultural, economic, and political factors affecting the international business climate is a hot commodity in today's global market. Multi-national organizations don't hesitate pulling out the checkbook for savvy B-school graduates with international experience. According to PayScale, the average salary for MBA in International Business holders ranges from $44,698 to $195,743. Of course, you'll want to strive for the higher end of the spectrum to maximize your earned currency. Knowing which careers offer the best Return On Investment (ROI) can be difficult with such a diversified economy though. Therefore, we'll devote this article to highlighting some of the top-paying jobs in international business.
Financial Manager
Banks, credit unions, insurance companies, and investing firms are increasingly going global, so there's a demand in financial management. The BLS predicts that 10-year job growth of 7 percent will create 37,700 new positions. Financial managers can maximize their international business background to protect the fiscal health of large conglomerates. They pore over the corporate ledgers and spreadsheets to devise creative methods to reduce unnecessary costs for better profit. Graduates could further specialize as risk managers, credit managers, or branch managers. On average, financial management jobs glean an annual income of $134,330, or $64.58 per hour.
Operations Manager
In international business, operations managers are the go-to leaders who coordinate the work of various departments across borders to accomplish organizational goals. They formulate the policies and procedures that make the production of goods or services run smoothly. Operations managers make certain that the multi-national company is exceeding customers' expectations despite cultural barriers. Projected job growth of 7 percent means around 151,000 operations management jobs will open by 2024. That's excellent news because operations managers are well-compensated with a mean annual wage of $119,460, or $57.44 per hour.
Compensation and Benefits Manager
Retaining top talent is essential for international organizations to gain a competitive market edge. Compensation and benefits managers play a pivotal role in drafting payment structures that motivate employees to stay onboard. As skilled HR specialists, they determine apt health insurance, retirement, bonus, and vacation packages that align with industry regulations. Demand for certified compensation and benefits managers is growing quickly by 6 percent, thus instilling around 1,100 new jobs. Compensation and benefits managers claim one of the top-paying HR specialties with a mean annual wage of $121,630, or $58.48 hourly.
International Sales Manager
Global organizations have an exceptional need for sales managers to direct the activities of customer service representatives across territories. Whether B2B or B2C, sales managers are responsible for analyzing purchase statistics to initiate plans that spark profitability. Most are involved in setting pricing and discounts to draw in a targeted market. International business graduates will find that sales management jobs are growing by 5 percent, so around 19,000 openings are expected by 2024. Competition is strong because many are attracted to the sales manager's role where the mean annual income is $130,400, or $62.69 hourly.
Public Relations Manager
Foreign language skills and cultural awareness built in international business programs lends well to the global PR arena. Public relations managers are skilled communications specialists who coordinate campaigns that enhance a company's public image. From drafting press releases to addressing media inquires, PR managers help organizations connect with potential customers of multicultural backgrounds. With the rise of social media, it's expected that upper-level public relations positions will grow by 7 percent through 2024. PR managers can expect an average income of $119,390 per year, or $57.40 per hour.
Management Consultant
When organizations decide to go global, hiring a management consultant is typical to ensure a successful expansion campaign. These analysts work on a contractual basis to help senior executives find strategic means to boost overall efficiency. They strive to boost the bottom line by cutting nonessential jobs, implementing new tech systems, and streamlining procedures. International business graduates could be the ideal fit for presenting innovative ideas to company heads. Demand for management consultants is rapidly growing by 14 percent. The 103,400 new positions opened by 2024 will offer an average salary of $91,770 yearly or $44.12 hourly.
These are great options, but we've yet to unveil the ultimate highest paying job in international business. Chief Executive Officers (CEOs) hold that distinction within the C-Suite. CEOs have supreme decision-making authority over determining overall corporate direction. Public, private, and nonprofit sector organizations globally rely on CEOs to supervise all operational activities. Chief Executive Officers are often widely recognized figures like Mark Zucerkberg, Warren Buffett, and Bill Gates. The BLS reports an average yearly salary of $185,850, but CEOs of large international organizations can claim millions.
Related Links