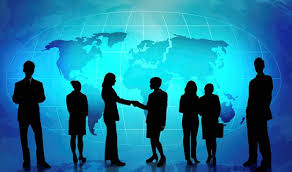 Have you always dreamed of finding a career where international travel and high-profile business transactions were part of your regular duties? If this is your goal, the first step to turning your dream into a reality is earning a degree in International Business. Once you have pinpointed the perfect degree program from an accredited institution, the next step is earning your Bachelor's degree. Then as you approach graduation, you will need to start focusing on which career opportunities are best for you and what companies have the best opportunities in this sector. If you are not familiar with all of your career options as an International Business degree holder, or you need a guide on where to start your career search, here is a great start with a list of The Best Places for International Business Degree Graduates to Find Jobs:
Career Options Available With Government Agencies
If you want a stable position with a lot of benefits, you may want to consider the benefits of applying for a career with a government agency. There are plenty of positions suited for International Business degree holders that are in high demand, and there are several different government agencies that are announcing openings for high-quality applicants with a degree in Internal Business. There is a lot of competition for government jobs and all agencies require applicants to pass a background check before receiving a job offer. If you can compete with applicants who have a graduate degree or experience, this may be a great option to receive benefits.
If you are searching for open positions that are currently being listed within government agencies, start by searching the job board through the Central Intelligence Agency, the National Security Agency, the U.S. Department of Commerce, the U.S. Department of State, the International Trade Commission, and more. The job postings will have a variety of global positions with varying specialties, duties and responsibilities, and you can sift through each of these listings and determine which opportunities you are qualified for and interested in. The .gov websites will have a section dedicated to all of the job listings complete with the requirements, duties, and application process. Some of the government careers you might be interested in include:
International Trade Specialist: If you want to work for the International Trade Commission and you will have a specialty in economics, becoming a trade specialist may be an ideal government position for you, and you will work with global exporters.
Foreign Service: If you want to work overseas, this position in the U.S. Department of Commerce will place you in one of 67 countries, where you will do market research and give advice on export markets. This is a great position if your specialty is global marketing.
International Banking Officer: If you are pursuing a degree with a specialty in finance, you may want to consider becoming a banking officer for federal finance departments or the World Bank. This position offers the opportunity for advancements to other international finance positions.
Careers Available Within Nonprofit Organizations
There are plenty of international nonprofit organizations who need educated and experienced professionals who know about different cultures. In most cases, taking a position within a nonprofit organization means that you will be helping resolve humanitarian issues that are present throughout the world. As a degree holder, you may earn less in a nonprofit organization, but if you are looking for a very fulfilling opportunity where you can make a difference across the globe this is the path to take. Competition is also not as high in this sector.
Careers Available in the Private Sector
There are government positions and positions in the nonprofit sector, but there are also a wide range of positions available in the private business sector. With your International Business degree, you can work in several different areas including exports, banking, sales, marketing, advertising, management, commerce, business consulting, law, media, education and more. If you want to find a career in the private sector, there are a number of ways to find a position. You can search job boards online, search for positions on the companies website you would like to work with, or even network with other professionals on social media platforms like LinkedIn. The best time to look for positions is while you are still in school and companies are recruiting the top students.
An International Business degree will prepare you for careers in the private and government sector. Make sure that you consider what exactly you want to do, what type of lifestyle you would like, and what specialty you want to focus on. Once you familiarize yourself with all of your options, you will be better suited to start the application process.