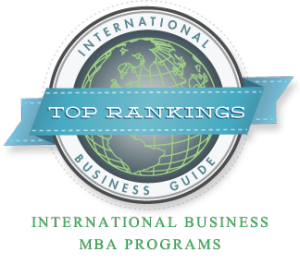 Graduate students interested in getting an on campus MBA in the competitive field of international business take note: it's important to remember that prestige and job placement really do matter. If you want to land a top job, you'll need to go to a top school.
The schools on this list were selected for their job placement statistics, reputation, and the features that make them unique. The following schools will put you in a good position to launch a lucrative, successful career in international business by applying the knowledge and skills acquired during educational training and internships. Be sure to consider the total cost of attendance while you are in the process of finding the school which best meets your educational, personal, and professional needs. Remember that in addition to paying tuition, you will need to cover living and other expenses. Many times employers are willing to help you pay for your MBA. Make sure to explore that option with your current employer.
Finally, make sure you consider exactly what it is you want to do in international business. Some programs will be a better fit for you than others. Try to find a program that plays to your strengths and interests which push you to challenge yourself.
Here are the schools with the Top 10 International Business MBA programs in the country:
1. Harvard University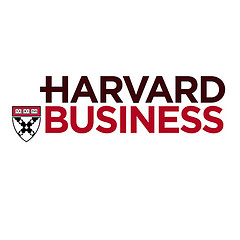 Harvard is known for its standard MBA program, which is ranked #1 by USNEWS, but its international business MBA curriculum is also quite remarkable. With MBA programs deeply ingrained in global economies, global leadership, management education, and research, this program produces stellar students equipped to handle the sometimes volatile atmosphere of international business. This program lands at #8 on the USNEWS International MBA rankings, and for good reason. The name "Harvard Business School" carries with it instantaneous prestige and a history of famous alumni.
Harvard's reputation is unmatched, its faculty impressive, and its students top notch. So while international business is only one of many programs featured in the Harvard Business School, it is still one of the top programs in the country. Tuition to complete an MBA in international business at Harvard is $53,500/yr.
For more about Harvard University's International Business MBA, go here
NYU's prestigious Stern School of Business offers a Global Business specialization which provides students with an excellent education in international business. The school offers a number of experiential learning programs and opportunities overseas for their MBA students. Stern's faculty features three Nobel Prize winners and three faculty named among the Top 100 Global Thinkers by Foreign Policy. The school offers students teaching fellowships, giving them an opportunity to work directly with the school's exceptional professors.
NYU has been ranked #5 among International Business MBA programs by USNEWS and #10 among MBA programs generally. For a student looking for a solid International Business program at an established and reputable school, it is hard to beat NYU's Stern school. Tuition is $52,828/yr.
For more about New York University's International Business MBA, go here

3. University of South Carolina (Moore)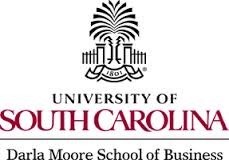 The Moore school also sports a newly renovated building, a generous and wealthy alumni base, several leading academic journals, and the distinction of being only one of five schools in the country selected by the Department of Education to be Center for International Business and Education Research (CIBER). For those interested in studying international business, the University of South Carolina's Darla Moore School of Business is an excellent option. International business is the school's primary focus, and it's international business MBA program is ranked #3 in the country by US News, while its undergraduate program is ranked #1. The MBA program was also ranked #1 for "International Course Experience" by the Financial Times, and ranked as the #1 MBA program at a public university.
Tuition for in-state students is $42,296/yr and tuition for out of state students is $70,176/yr.
For more about the University of South Carolina's International Business MBA, go here

4. Colombia University




Colombia Business School, located in the heart of New York City, offers one of the best MBA programs in the country, and its international business program is no exception. Colombia's curriculum has been designed by its world renowned faculty around the study of real world "cases," to help students develop the practical knowledge and think about business holistically, looking at companies from the perspective of several disciplines. In general, each MBA class will focus on a single case and learn to view it from a different direction in each of their core classes.
Colombia also makes use of a unique "Cluster System," dividing its MBA classes into clusters of 65-70 students who take classes together and participate in outside activities with each other. These clusters are further divided into "Learning Teams," groups of five students who complete assignments as a team in core classes.
Colombia's International Business program is ranked at #6 by USNEWS, and its innovative approach to MBA education brings it to #4 on this list. Tuition costs are $58,284/yr.
For more about Columbia University's International Business MBA, go here

5. Duke University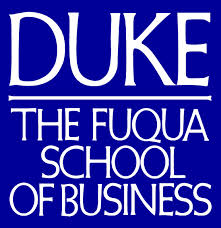 Duke's Fuqua School of Business is home to the #1 faculty in the country, according to Bloomberg-Business Week. Duke offers a number of different international business programs, including the Global Executive MBA and the Cross Continent MBA program, in addition to its highly ranked standard business MBA.
USNEWS ranks Duke's International Program at #10 in the country. One of Duke's main selling points is that a number of its programs are tailored specifically to be flexible around the schedules of working professionals. The Cross Continent MBA program takes only 16 months to complete, while the Global Executive 15-month curriculum is divided into 5 mandatory terms which allow working executives to work while attending the school up until the final residency term. Tuition is $52,900/yr.
For more about Duke University's International Business MBA, go here
6. Stanford University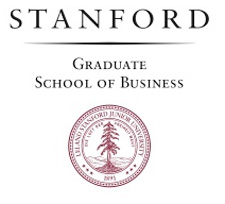 Stanford's internationally recognized Center for Global Business offers an international business MBA that is perfect for students with an interest in the public service side of business. Its curriculum emphasizes not just traditional global business classes, but also focuses heavily on developing an understanding of the impact businesses have on communities around the world, and using businesses to create positive development of international communities.
Students at Stanford's Center for Global Business take on a number of hands-on research projects after receiving excellent instruction on core subjects from renowned faculty members. Tuition costs $59,550/yr.
For more about Stanford University's International Business MBA, go here
7. Northwestern University




Northwestern's standard MBA program is widely considered one of the top five in the country, and its international business program lives up to the same standard of excellence. Northwestern's name is recognized around the world as a top business school, and any student who manages to gain entrance can likely count on a significant career boost as a result.
Northwestern also offers a unique, 1-year MBA program option to those who don't wish to devote two years toward getting an MBA. While it is more expensive than one year in the two-year program, it costs significantly less than the entire two-year option at Northwestern or most other top business schools. The 1-year option is definitely a unique and interesting feature to consider. Tuition is $59,085/year or $80,400 for the 1-year MBA educational option.
For more about Northwestern University's International Business MBA, go here
Hult University is a private business school that specializes in international business. While its standard business program is decently ranked, its international program is generally ranked much higher. The school has campuses around the world, from Boston, to London, to Dubai, and places significant emphasis on international education.
While the school is pricey compared to other MBA programs, Hult is one of the few business programs that is truly devoted to global business in every sense, and is thus worth giving strong consideration to if you are interested in international business. Hult often works in partnership with the Clinton Global Initiative, universities, and other groups around the world on social projects around the world. Also, while Hult is strictly a graduate school, it is the largest graduate business program in the world. In the connection-driven world of business, having such a large alumni network can be truly beneficial. Tuition is $65,800/yr.
For more about Hult University's international business MBA, go here
9. University of Georgia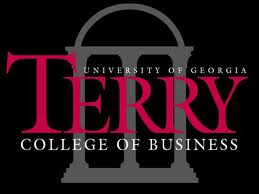 Georgia's Terry Professional MBA program is considered to be one of the top in the country, and it also features strong international offerings. In fact, one of Georgia's unique offerings is its optional "International Residency," which serves as a 10-day immersion in an international business environment.
For students interested in an international MBA, and for Georgia residents in particular, the Terry school is a strong option to consider. Tuition for residents is $51,000/year and non-residents is $63,000/year.

For more about the University of Georgia's international business MBA programs, go here
10. Pepperdine University




Pepperdine's Graziadio School of Business and Management offers an International MBA which emphasizes experience based learning and study abroad. The school's program offers language courses, connections to partner universities around the world, international internships, and the option to earn a second degree in addition to the International MBA.
While Pepperdine's name doesn't carry the same weight as Harvard or NYU, its dedication to experiential learning and international business makes it a solid option. Pepperdine is also slightly less expensive than other MBA programs with tuition at $43,930/yr.
For more about Pepperdine's international business MBA program, go here