by Tom Stevens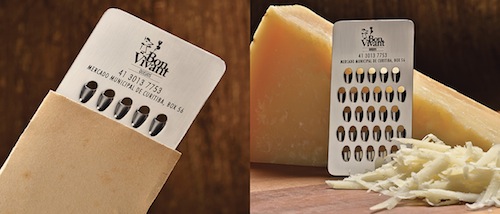 In the world of international business, making an impression can sometimes be half the battle, and an individual or company's business card is certainly not exempt from this. Though (American Psycho aside) it's not a matter of life and death, having a memorable business card can be the difference between establishing a fruitful connection and one's details being shoved into a back pocket and forgotten about. One way to make a card stand out is to give it a function beyond simply carrying contact information in text format. Whether doubling up as a cheese grater or helping people fix their bicycles, these 12 dual-function business cards are unlikely to find themselves at the bottom of the pile any time soon.
12. NFC Card by MOO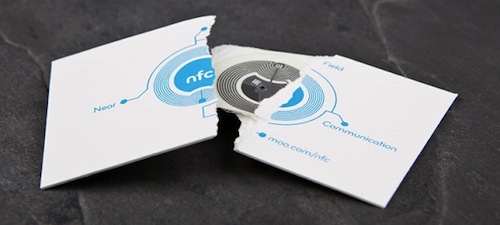 The traditional business card has received a high-tech update from U.K.-based online printing company MOO. The award-winning start-up designed its Near Field Communication (NFC) card to offer a simple bridge between the analogue and digital elements of sharing contact details. This prototype card features an integrated NFC chip that performs a user-specified function when it is brought into contact with an NFC-compatible smartphone. Rather than just transferring a name and number or website, users can now effortlessly share music, video or a digital portfolio, for example. And what's more, the function of the card can be constantly updated and rewritten using MOO's dedicated NFC app, ensuring this is one card that won't be crumpled into the trash in a hurry.
11. Broke Bike Alley Card Tool by Rethink Canada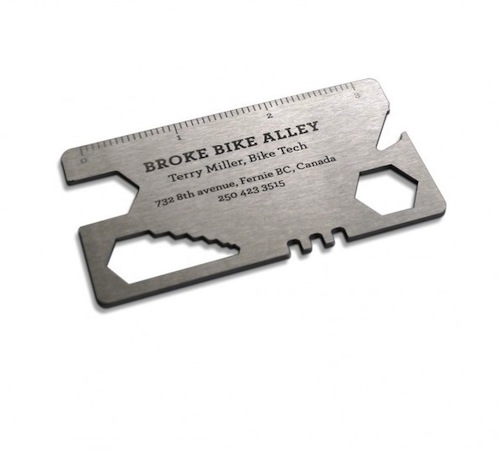 What better way to promote one's business than to have a card that physically does some of the work for the recipient? This multifunctional metal card does exactly that – advertising the services of British Columbia bicycle repair business Broke Bike Alley while also acting as a useful tool for carrying out small repairs. Designed by Canadian creative agency Rethink in 2010, the wallet-sized card contains a selection of tools that can be used to tighten bolts or adjust spokes – plus a bottle opener for that conciliatory drink when the user has given up in frustration and vowed to take their beloved bicycle to a professional instead.
10. Music Comb Business Card by Fabio Milito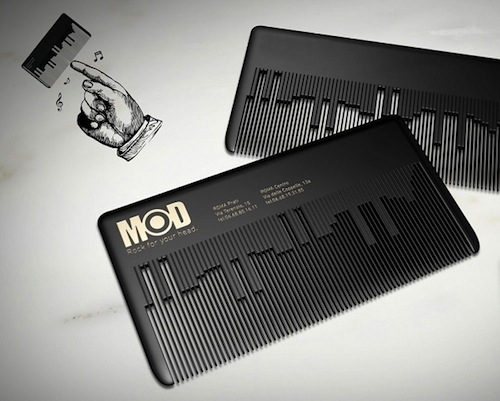 This creative business card was brought into being by designer and art director Fabio Milito in 2010, and it manages to integrate not one but two extra functions. The black plastic card doubles up as a comb for on-the-fly hairstyle tweaks, but it also utilizes simple music box principles to play a classic rock 'n' roll tune when the recipient runs their fingernail along the teeth of the comb. Milito created the card for Rome-based hairdressing salon MODhair, and the design was recognized with a Bronze award for direct marketing from Ads of the World in 2010.
9. 1010 Tires Tread Depth Indicator Card by Spring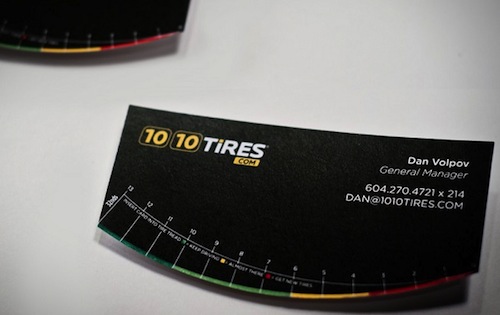 Another simple but highly effective business card, this design by Canadian ad agency Spring incorporates a handy tire tread depth gauge. Users simply place the card in the middle of the tire tread and then use the color-coded indicator at the bottom of the card to determine whether they can safely carry on driving or if they need to get new tires. The card was designed for Canadian wheel and tire specialist 1010 Tires, and as the company says, "Tread depth is a key indicator of a tire's performance and safety. So when your business card doubles as a tread depth gauge, it's clear you are serious about both." Acknowledging this clever concept, the design was recognized with a Merit at the Lotus Awards in 2012.
8. Solar Torch Card by Deqing Sun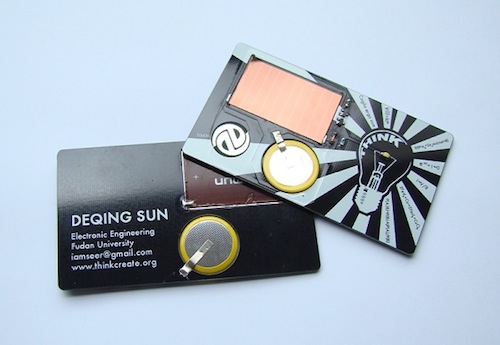 This light bulb moment comes courtesy of creative technologist Deqing Sun. The 0.08-inch-thick business card features an integrated circuit with a working LED light in the center of the light bulb graphic and was developed by Sun in 2010. The light is activated when the double-E logo at the bottom-left of the card is touched. What's even more impressive, though, is the fact that the light is solar-powered: the lithium ion battery visible in the middle of the card is there only to store the energy generated by the silicon-based solar panel, meaning the battery never needs to be replaced. This is one card that really reflects the ingenuity of its creator.
7. Baywood Laser Tattoo Removal Card by Innocean Worldwide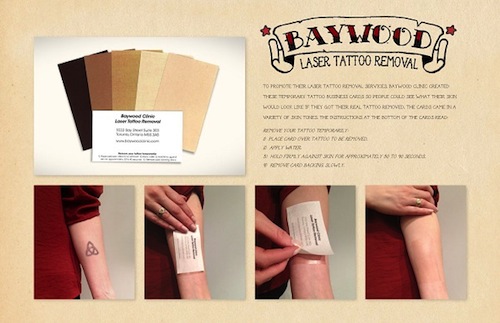 Unsure whether or not that latest tattoo was good idea? This ingenious business card affords recipients the opportunity to see what a patch of their skin would look like ink-free – and it also carries the contact information for a tattoo removal clinic, should the individual choose to go down that route. Designed by creative ad agency Innocean Worldwide Canada in 2012, the card features a temporary flesh-colored tattoo that can be used to cover up any body art the user might be starting to regret, and it comes in a range of skin tones. The card was created for Toronto-based cosmetic treatment center the Baywood Clinic, and given that the clinic's physicians carry out more than 10,000 treatments annually, it's a safe assumption that there are a few less bad tattoos on the streets of Canada's biggest city thanks to this card.
6. Bon Vivant Cheese Grater Card by JWT Brazil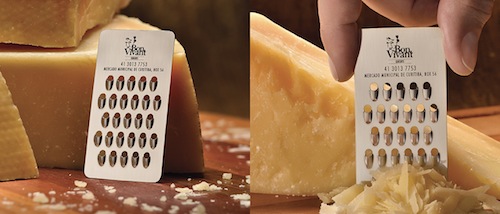 Though we're struggling to think of a time when we lamented the absence of a cheese grater in our pockets, this business card design by the Brazilian arm of marketing communications brand JWT scores full marks for innovation. Invented in 2013 and conceived to convey the passion of specialist cheese retailer Bon Vivant, the simple metal card with functioning grater proved a huge hit with customers, and the manufacturing run of a thousand cards was used up in the space of two weeks. "People came here, chose the cheese, paid, and then asked for the card. Many became customers after that," said store owner Beto Rogoski. "We had to set a minimum spend amount for the cards." It just goes to show that one should never underestimate the power of, ahem, grate ideas.
5. Penny Shooter Card by Cardnetics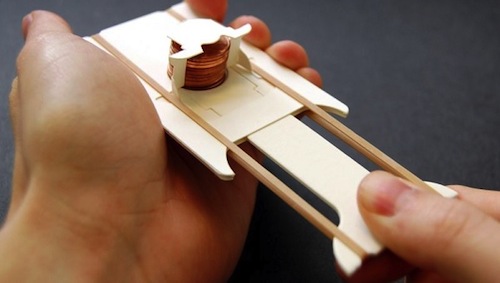 While handing someone a business card that could be instantly used to fire metal projectiles back in the direction in which it came does have its risks, it is at least an unambiguous way for the person offering the card to find out if they have made a bad impression. This penny shooter card by Cardnetics affords just that opportunity. The card can accommodate as many as ten U.S. pennies for firing (though users are advised to check the dimensions of their coins if they're using a different currency) and features a simple pull-back-and-shoot mechanism powered by two rubber bands at either side of the card. The design has obviously proved popular and is currently sold out on the Cardnetics website. Here's hoping they are back in stock soon.
4. Kevin Mitnick's Lock Pick Card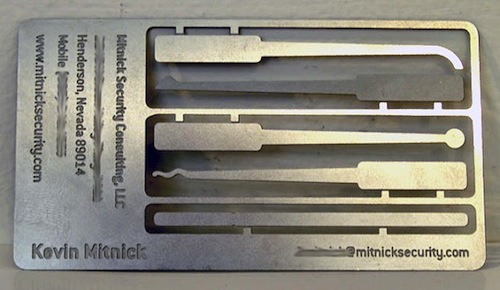 It's perhaps no surprise that the man who was once America's most wanted computer criminal has a suitably hacker-themed business card. Kevin Mitnick was imprisoned for half a decade – including eight months in solitary confinement – following his arrest in 1995, but he has since gone on to set up computer security company Mitnick Security Consulting. What's more, Mitnick's metallic business card gives a tongue-in-cheek nod to his criminal past, as it contains a push-out set of working lock-picking tools. One YouTube video even demonstrates the card in action, moving from an intact card to a fully unpicked lock in little over a minute. The card is available from Mitnick's website to anyone for a price of $5 along with a self-addressed stamped envelope. And as Mitnick himself says, "Send your IP address and password (just kidding)."
3. BC Adventure Meat Card by Rethink Canada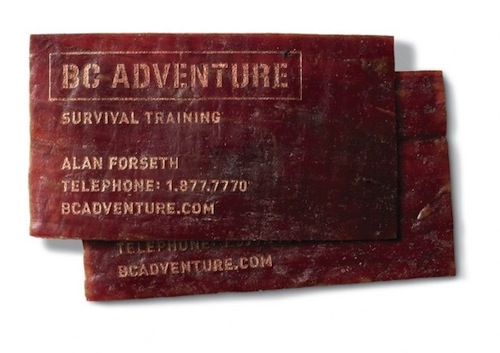 Though it is made of meat, this is not in fact the business card of Lady Gaga's couturier. Rather, it's another design from award-winning creative agency Rethink Canada. The card was made for British Columbia travel website BC Adventure in 2009 and features the company's details laser-etched into a rectangle of organic beef jerky. Said dried meat is safely edible for up to a year, offering a handy source of extra calories for anyone who finds themselves suddenly stranded in the wilderness. It's a nifty idea, though we can't help but wonder what percentage of these cards have been given out accompanied by the phrase, "It was nice to meat you."
2. Caliper Card by Adrian Likins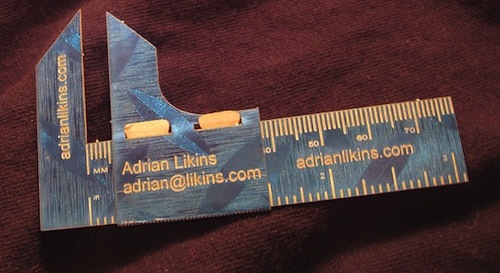 In 2009 North Carolina-based programmer Adrian Likins designed and manufactured this business card, which can be folded up to form a working caliper rule. The card is laser-cut into three sections, one of which contains the assembly instructions and can be discarded, and the other two of which join together to form the measuring instrument. The rule displays millimeter and inch scales, and Likins comments that "accuracy and precision are not too bad for something folded out of paper." It also has ample space to include essential information such as website and email address.
1. Cement Solutions Bottle Opener Card by FLIPP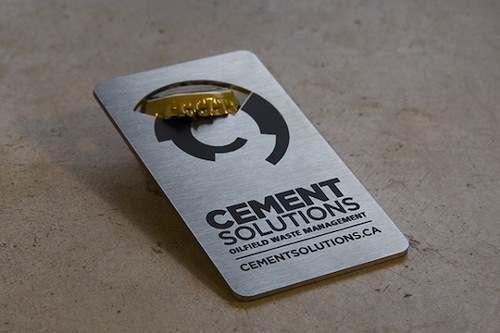 Bottle openers are often elusive when they're needed the most, so this limited-edition business card for oilfield waste management company Cement Solutions would at least come in handy from time to time. Designed by Calgary-based marketing and communications firm FLIPP in 2010, the rugged metal card features a cut out section near the top with which to prise the tops off any waiting bottles. "It's a tough work place and the concept for the business card really needed to reflect that," says FLIPP. "After all, who doesn't want a cold, refreshing drink at the end of a day of hard work?"